Ravindra Jadeja emerges as India's unsung hero in the World Cup
NEW DELHI: Indian all-rounder Ravindra Jadeja has emerged as a vital asset for the Indian cricket team in the ongoing World Cup, often operating in the shadows of more celebrated teammates. While his performances may not grab the headlines like Virat Kohli's centuries or Rohit Sharma's elegant strokes, Jadeja's contribution has been indispensable, particularly in the bowling department.
Described as India's 'Most Valuable Player' in terms of utility, Jadeja's influence becomes palpable, especially on pitches that offer any assistance to bowlers. His parsimonious bowling and remarkable fielding skills have made him a lethal weapon in India's arsenal.
Former India left-arm spinner Murali Kartik, a keen observer of the game, delves into Jadeja's transformation during this World Cup compared to previous years.
"Jadeja is mixing it up nicely during the World Cup. If you look at his action from earlier times, it used to be round-arm, he would bowl a lot of under-cutters because of that," explained Kartik while speaking to PTI.
Under-cutters are deliveries where the ball lands on its leather part rather than the stitched seam area. The result is that the ball doesn't turn and rather skids or goes straight.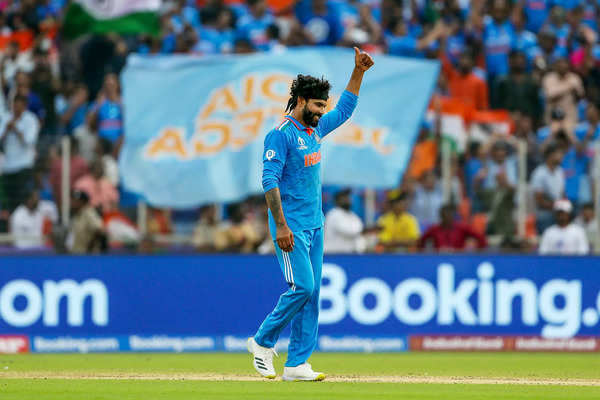 Ravindra Jadeja. (ANI Photo)
These kinds of deliveries are lethal if the wicket is under-prepared with upper crust blown away due to heat. Axar Patel is a known exponent of the under-cutter with his heavily round arm action. But the problem with these deliveries is on good surfaces, quality international batters are hardly troubled.
"Jadeja isn't bowling round-arm any more and is using both side-spin and over-spin much more. The ball is consistently landing on the seam and it is helping him get extra bounce as well as sufficient turn to beat the bat," Kartik, who has played all three formats for India, said.
One of the hallmarks of Jadeja's effectiveness is his ability to bowl an extraordinary number of dot balls, amounting to 131 in just four games, equivalent to 21.5 overs. This dot ball percentage stands at an astonishing 58.22%.
Additionally, Jadeja has conceded only 11 boundary balls in four games, which includes nine fours and two sixes. This unwavering accuracy has made it challenging for opposition batsmen to score freely against him.
While the delivery to Steve Smith in Chennai has been much talked about, Kartik spoke about one that got Alex Carey leg before in the same game.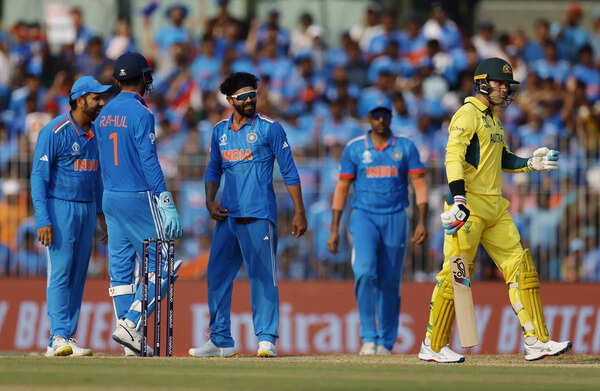 Ravindra Jadeja celebrates with teammates after taking the lbw wicket of Australia's Alex Carey. (Reuters Photo)
"The way the seam dropped was fantastic. He deceived Carey in air as well as off the surface. The way the ball hung in the air, Carey had thought it would land on a bit more fullish length. But he just held it back and shortened the length enough with a dip in the air. Carey was undecided on whether to come forward or go back."
"There can't be one. You need to judge the surface and vary your pace and length accordingly," Kartik added.
As India face England, a team known for its proficiency against spin, Jadeja's deceptive style of bowling will be put to the test. Murali Kartik believes that England may not have entirely deciphered Jadeja's bowling deception, making it a potential advantage for India.
Ravindra Jadeja: India's versatile all-rounder making an impact
While he may not enjoy the same fanfare as some of his teammates, Jadeja's unique combination of skills and adaptability has established him as an essential asset for the Indian cricket team. His contribution could prove pivotal in India's World Cup campaign.
(With inputs from PTI)