Rohit Sharma will hit a sixer of titles for MI this season: Rahul Chahar
NEW DELHI: From playing just 3 matches in his debut IPL season in 2017 to becoming a regular feature in the Mumbai Indians playing XI, 21 year old leg spinner Rahul Chahar has come a long way in a short period of time.
Rahul, who was bought for Rs 1.90 crore at the 2018 IPL player auction by the Mumbai franchise, had an impressive season last year (2020), claiming 15 wickets in 15 matches.
Rahul has already been a part of Mumbai Indians' two title wins – 2019 and 2020 – out of a total of five and the 21-year-old is confident that captain Rohit Sharma will hit a sixer of titles in the 14th edition of the IPL which begins on Friday (April 9). Rohit has so far led the Mumbai Indians to five title wins – 2013, 2015, 2017, 2019 and 2020.
"I am looking forward to another good season with Mumbai Indians. We have the best coaching staff. We have Zaheer Khan, Mahela Jayawardene and it is an honour to take cricketing lessons from them. I am sure I will have another huge learning curve with the team once again," Rahul told Timesofindia.com in an exclusive interview.
"I am confident that Mumbai Indians will clinch their sixth title. The way the boys are performing and are in form, especially Rohit bhaiya (Rohit Sharma), Hardik (Pandya), Krunal, Surya (Suryakumar Yadav) and Ishan Kishan, the side is looking very strong and are the favourites to win the sixth title and the third in a row. I am sure Rohit bhaiya will hit a sixer of titles this time," he further said.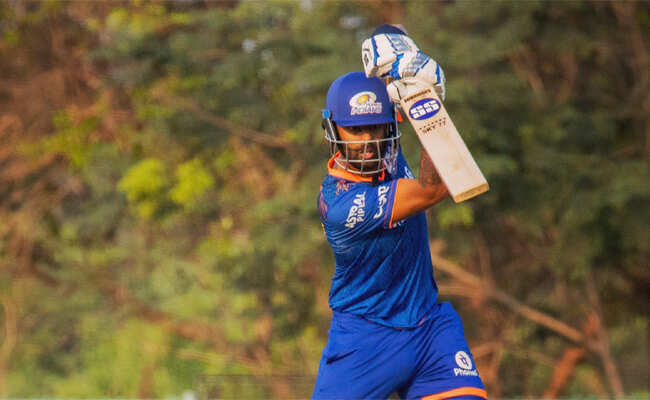 Suryakumar Yadav (Photo courtesy – Suryakumar's Twitter handle)
ISHAN, SKY KEY FOR MUMBAI INDIANS
Ishan Kishan and Suryakumar Yadav are brimming with confidence after their impressive outings in the recently-concluded T20I series against England at home.
Ishant scored 60 runs in 2 matches at an average of 30.00, while Suryakumar played three matches and batted in two, smashing 89 runs at an average of 44.50. Both the batsmen made their debuts for India in the series.
Rahul believes Ishan and Surya will be key players for the Mumbai Indians in their IPL 2021 campaign this time.
"Rohit bhaiya, Hardik and Pollard are the star players for our team. They have the ability to turn the game at any point of time. Apart from these three, I think Surya and Ishan will be the key players for us this season. They are in tremendous form," Rahul told TimesofIndia.com.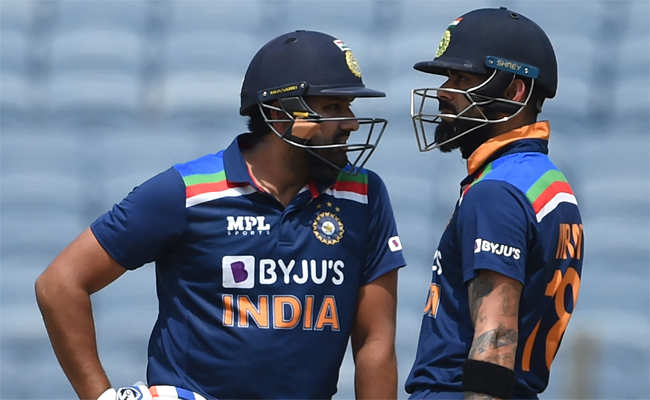 Rohit Sharma and Virat Kohli (AFP Photo)
ROHIT AND VIRAT'S ROLE IN RAHUL'S CAREER
Rahul made his international debut in 2019 in a T20I vs West Indies in Guyana under Virat Kohli's captaincy. He claimed one wicket in the form of Carlos Brathwaite and conceded 27 runs in three overs. After that Rahul failed to make it to the Indian side. Earlier this year, Rahul once again got the nod for the T20I series against England at home.
Making a comeback to the Indian team, Rahul claimed two big wickets for his team in the second T20I. He bowled Dawid Malan for 14 runs and then got rid of Jonny Bairstow for 25.
"I made a comeback to the Indian side after almost one and a half years. It felt really good to be a part of the team once again. The wait was a long one. I worked a lot on my bowling. I worked on certain areas. I want to be consistent and play as long as possible for my team. I want to play all three formats for India. I want to give credit to my tau ji (uncle) and Zaheer sir. Zaheer sir has played a big role in taking my game to the next level. He understands me and my bowling really well. He always gives me advice and tips," the spinner from Rajasthan further said.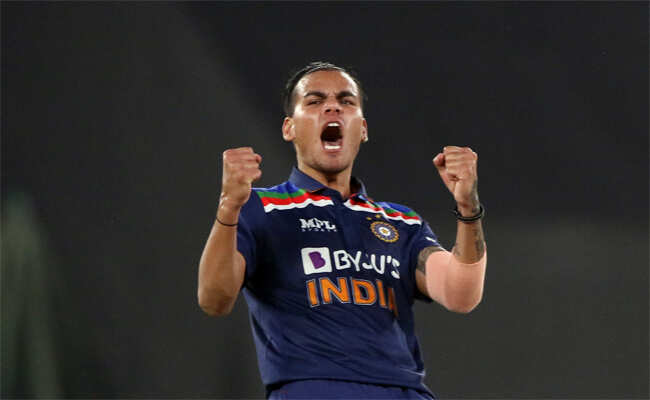 Rahul Chahar (ANI Photo)
He also credited Virat Kohli and Rohit Sharma for making him a confident bowler.
"The best quality in Rohit bhaiya and Virat bhaia is that they show trust and confidence in me and other bowlers. Your confidence is sky high when your captain backs you, especially in crunch situations," the 21-year-old, who is medium pacer Deepak Chahar's cousin said.
"When I was playing for India, Virat bhaia used to come and tell me the areas where I should be pitching the ball. He said you are a good bowler and all you need to do is hit certain areas. At Mumbai Indians, Rohit bhaiya always says 'tu pakka wicket lega' (You will surely take a wicket). Both Virat bhaiya and Rohit bhaiya give me confidence. That's the best quality in them. Even if you are being hit by the batsmen, both of them will back you," he said.
"We always watch videos of batsmen and make plans. Rohit bhaiya comes and discusses the plans after watching the videos and tells me the areas I should be bowling in," Rahul added.
Work hard then work harder. @mipaltan #IPL2021 https://t.co/tAhlMGlaBu

— Rahul Chahar (@rdchahar1) 1617538911000
THE FOCUS IS ON IPL
Rahul wants to take it one step at a time. With the likes of Yuzvendra Chahal, Washington Sundar and Kuldeep Yadav already in the running for berths in the Indian playing XI, Rahul might find it difficult to find a consistent place in the team. In that context and with a T20 World Cup scheduled for later this year, Rahul knows an impressive outing in the IPL will go a long way in impressing the selectors and the team management.
"I don't want to think about it (India playing XI spot) right now. IPL is the only thing on my mind right now. If I perform well, I will surely get the chance. It is the ultimate dream to reach there (Indian team)," Rahul signed off.