RR vs RCB Live: Padikkal, Kohli fall, RCB struggle in chase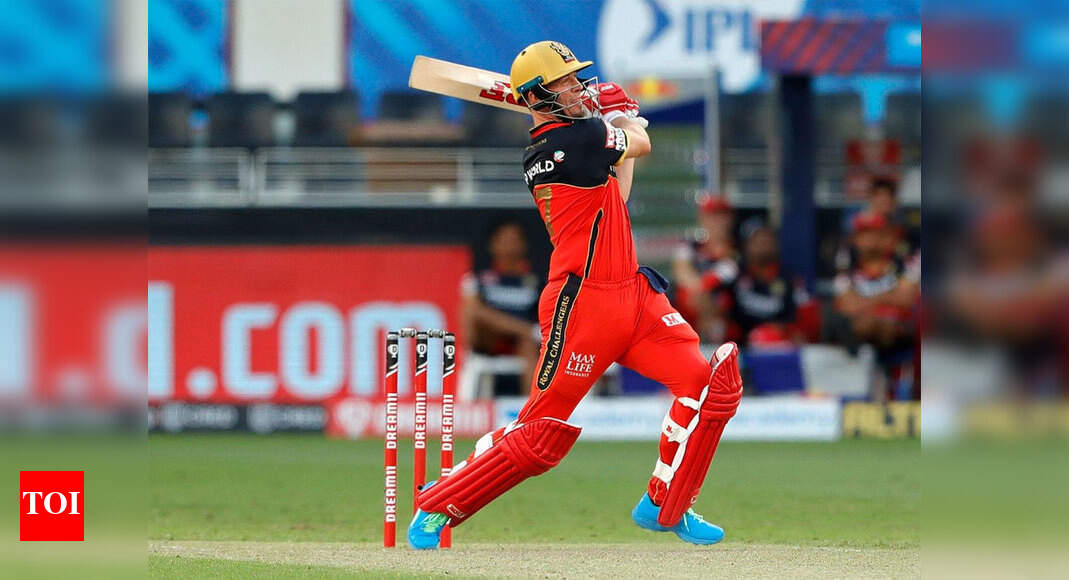 Target for Royal Challengers Bangalore – 178
End of 19th over: A horrible over from Jaydev Unadkat. Concedes 25 runs from it including 3 sixes and a four. AB de Villiers has put RCB in poll position now. RCB 168/3, need 10 off final six deliveries.
18.3 overs: SIX! SIX! SIX! Unbelievable from AB de Villiers. He has just put RCB right back into this game. Back-to-back sixes off Jaydev Unadkat. Three in a row and Unadkat just cannot believe it. Sensational AB is on fire.
End of 18th over: An excellent over from Kartik Tyagi under pressure. Restricts AB de Villiers and Gurkeerat Mann to just 10. Jaydev Unadkat to bowl the penultimate over of the innings. 35 needed from 12.
16.5 overs: SIX! This time on the off side off Jaydev Unadkat. Wide outside off from Jaydev and De Villiers throws his bat at it. The ball travels 80-metres and over the covers fence. RCB 131/3
15.5 overs: SIX! Into the top tear. AB de Villiers tees of with a 77-metre six off Jofra Archer. A cracking shot from De Villiers under pressure. RCB 124/3, need another 54 runs off 25 balls. This game is still evenly balanced.
End of 15th over: 10 runs from Shreyas Gopal's final over. He finishes with figures 4-0-32-1. In the last 4 overs RCB have scored 30 runs and lost 2 set batsmen in form of Virat Kohli and Devdutt Padikkal. Required run rate still climbing for RCB and now is over 12. They still need 64 runs in 30 balls. RCB 114/3
13.1 overs: OUT! Now Kartik Tyagi strikes from the other end. And it is the big wicket of set Virat Kohli. Rahul Tewatia takes a brilliant catch at the deep fence. The ball was hit hard and was looking set to comfortably cross the fence. Rahul takes a brilliant catch running in but then realizes that his momentum was taking him over the line. Keeps the ball in play, flicking it back and then completes the catch in the second attempt.
End of 13th over: OUT! Wicket on the final ball of the over for Rahul Tewatia. Devdutt Padikkal tries to take on Rahul but hits it straight to Ben Stokes at long-on. Padikkal departs after a rusty 35 off 37. RCB 102/2
End of 12th over: Another good over from Kartik Tyagi comes to an end. Virat Kohli and Devdutt Padikkal still dealing in ones and twos. The required rate is climbing up and now one of them has got to take more chances. RCB 92/1
Halfway through!
SIX! A mammoth strike from Virat Kohli off Shreyas Gopal to finish the 10th over. RCB need another 101 runs in 60 balls.
RCB 77/1
End of 9th over: A nine-run over from Rahul Tewatia but the Royals bowlers have managed to keep Virat Kohli and Devdutt Padikkal quiet in the last 3 overs. No boundary for both of them in last 20 balls. The required run rate has now climbed to 10.36. RCB 64/1
End of 7th over: A tidy start from Rahul Tewatia. Just 4 from his first over. RCB also got to the 50-run mark in that over. RCB 51/1
5.4 overs: FOUR! Virat Kohli now gets going at the other end. Clears the in-field on the on-side at the ball races to the fence. RCB 45/1
Shreyas Gopal draws first blood. Finch departs for 14.Live – https://t.co/UcjyKWg2Lf #Dream11IPL https://t.co/Fv9z8YVK3D

— IndianPremierLeague (@IPL) 1602937049000
4.4 overs: FOU! FOUR! Devdutt Padikkal takes on Kartik Tyagi in his first over. Consecutive boundaries for Padikkal on either side if the wicket. RCB 37/1
3.3 overs: OUT! Shreyas Gopal strikes in his second over. Gets rid of dangerman Aaron Finch. Tosses the ball up and wide outside off. Finch goes for the big hit but mistimes. Robin Uthappa completes a good catch. Finch falls for 14. RCB 23/1
End of 3rd over: And another maximum from Aaron Finch to finish the Jofra Archer over. Excellent contest this between Finch and Archer. RCB 22/0
2.2 overs: SIX! Phenomenal from Aaron Finch. Stand and deliver. Length ball from Jofra Archer and Finch deposits it into the deep mid-wicket stands. A 100-metre strike from Finch as he tees off. RCB 16/0
End of 2nd over: Good over from Shreyas Gopal from the other end as well. 6 from it. Archer to continue from the otehr end. RCB 9/0
End of 1st over: A tidy start from Jofra Archer. 4 from his first over. Leggie Shreyas Gopal to share the new ball with Archer from the other end. RCB 4/0
Aaron Finch and Devdutt Padikkal are out in the middle to start the run chase for RCB. Jofra Archer has the new ball in hand for the Royals. A slip in place for him. Sanju Samson is with the wicketkeeping gloves. Padikkal on strike. Here we go!
Innings break
Rajasthan Royals 177/6 vs Royal Challengers Bangalore
Steve Smith 57
Robin Uthappa 41
Chris Morris 4/26
Innings Break!After opting to bat first, @rajasthanroyals post a total of 177/6 on the board.Will #RCB chase th… https://t.co/XF2kOhCFY4

— IndianPremierLeague (@IPL) 1602935872000
End of 20th over: An excellent finish from Chris Morris. Two wickets and just 4 runs in the final over. Steve Smith got out in the final over for 57 while Archer (2) was the second wicket, getting out on the final ball of the innings. Rahul Tewatia remains unbeaten on 19 off 11 balls.
End of 19th over: Another big over for Rajasthan Royals as Steve Smith and Rahul Tewatia collect 15 from it including a six and a four. Chris Morris to bowl the final over of the innings. RR 173/4
LIVE BLOG | SCORECARD
End of 18th over: An expensive over from Yuzvendra Chahal. 17 from it including 3 boundaries. Chahal finishes with figures of 4-0-34-2. Isuru Udana to bowl the penultimate over of the innings. 150 also came up in that over for Rajasthan. RR 158/4
[email protected] brings up his 11th IPL half-century off 30 deliveries.#Dream11IPL https://t.co/qsRmYpczaq

— IndianPremierLeague (@IPL) 1602934175000
50 for Steve Smith!
What a knock this has been from the Rajasthan Royals skipper. Leading from the front. Gets to his fifty with a boundary straight down the ground off Chahal. Gets to his fifty off just 30 balls.
17.1 overs: FOUR! Reverse sweep from Steve Smith off Yuzvendra Chahal and the ball goes the distance. One bounce and over the fence. Smith at his absolute best. Finally some runs under his belt after a series of low scores. Smith completes 1000 IPL runs with that boundary. RR 143/4
End of 17th over: A tight final over of the spell from Navdeep Saini. Just 6 from it. He finishes with figures of 4-0-30-1. RR 139/4
Morris strikes again!Danger man Buttler departs for 24.Live – https://t.co/1eSWG294xE #Dream11IPL https://t.co/806F2Ol2i4

— IndianPremierLeague (@IPL) 1602933383000
15.4 overs: OUT! Chris Morris strikes. Removes danger-man Jos Buttler. No timing on that occasion for Buttler as he hits the ball straight to Navdeep Saini at mid-off. Buttler falls for 24. RR 127/4
15.1 overs: SIX! Mighty from Steve Smith! Into the top tear! That was in the arc of Smith and he just slamme Chris Morris there over the deep mid-wicket fence. RR 125/3
14.3 overs: FOUR! Short and wide outside off from Isuru Udana and Steve Smith throws his bat at it. The point and third-man fielders were inside the circle and that was just too easy for Smith. Dispatches it for a boundary. RR 114/3
End of 13th over: 7 from Washington Sundar's third over. Steve Smith and Jos Buttler rebuilding this Royals innings with some excellent running between the wickets. 100 also came in that last over for Rajasthan. Navdeep Saini comes back into the attack. RR 103/3
End of 12th over: Another tidy over from Yuzvendra Chahal. Just five from it. Sundar comes back into the attack. RR 96/3
Halfway through!
And after a terrific start, Rajasthan Royals have just given it away to Bangalore, losing three wicket in quick succession. Steve Smith (1*) and Jos Buttler (6*) are now trying to restrict the damage for Rasajthan. RR 76/3 after 10 overs
End of 9th over: A decent first over from Shahbaz Ahmed. 7 from it including a boundary. RR 76/3
End of 8th over: A terrific first over from Yuzvendra Chahal. Misses out on a hat-trick but has brought RCB right back into this contest. 7 runs and 2 wickets in his first over. RCB 69/3
Back to back wickets for @yuzi_chahal.Uthappa and Samson are back in the hut.Live – https://t.co/1eSWG294xE… https://t.co/iGnJQcFfWF

— IndianPremierLeague (@IPL) 1602931374000
7.5 overs: OUT! Two-in-two for Yuzvendra Chahal. This time Sanju Samson hits it straight to Chris Morris at long-off. What a comeback this is from Chahal after getting hit for a six first-ball. RR 69/3
7.4 overs: OUT! Yuzvendra Chahal gets the much-needed wicket of Robin Uthappa. He once again goes for the big hit on the leg side but this time hits it straight to the Aaron Finch in the deep. Uthappa falls after scoring 41 off 22 balls.
7.1 overs: SIX! Gigantic strike from Sanju Samson. He joins the party as well. That was in the arc and Samson just deposited it into the top tier. Welcomes Yuzvendra Chahal with a cracking maximum.
6.3 overs: FOUR!FOUR! We are starting to see the best of Robin Uthappa. Back-to-back boundaries off Navdeep Saini on either side of the wicket. Uthappa is dealing only in boundaries at the moment. He has raced to 40 off just 19 balls. RR 60/1
5.3 overs: OUT! Chris Morris gets the breakthrough for Bangalore. Bumper from him and Ben Stokes goes for the pull shot. Manages only a glove to it and AB de Villiers does the rest behind the stumps. Stokes falls for 15. RR 50/1
50 up for Rajasthan Royals!
Robin Uthappa 31* off 15
Ben Stokes 15* off 17
RR 50/0 after 5.2 overs
4.2 overs: FOUR! Boundaries flowing at the moment for the Royals. This time Ben Stokes clubs Navdeep Saini into the deep mid-wicket region. RR 42/0
End of 4th over: FOUR! SIX! A couple of boundaries to finish off the over. Robin Uthappa is on fire! At his absolute best. Looking to take the full advantage of the fielding restrictions. Clubs Isuru Udana for back-to-back boundaries. RR 38/0
End of 3rd over: FOUR! Boundary to end the over. This is brilliant from Robin Uthappa. Decimated Sundar in that over, picking up four boundaries. The Royals are up and running. RR 21/0
2.4 over: FOUR! Third boundary in the over for Robin Uthappa. He has made his intensions very clear. This time he sweeps Sundar in the deep square-leg region to collect four runs.
2.1 overs: FOUR! Over-pitched from Sundar and Robin Uthappa times the ball to perfection. Hits it through extra-cover region to collect his and Rajasthan Royals' first boundary. RR 9/0
End of 2nd over: Good start from Chris Morris as well from the other end. Just three from his first over. Sundar to continue for RCB. RR 5/0
End of 1st over: An excellent start from Washington Sundar. Just 2 from his first over. Chris Morris to share the new ball with Sundar from the other end. RR 2/0
Change in batting order once again for Rajasthan Royals. Today, Ben Stokes and Robin Uthappa have arrived to the middle to start the Royals innings. Washington Sundar has the new ball in hand for Royal Challengers Bangalore. Here we go!
Playing XI for both teams
A look at the Playing XI for #RRvRCB #Dream11IPL https://t.co/FrVh146FgO

— IndianPremierLeague (@IPL) 1602927776000
Rajasthan Royals: Ben Stokes, Jos Buttler(w), Steven Smith(c), Sanju Samson, Robin Uthappa, Riyan Parag, Rahul Tewatia, Jofra Archer, Shreyas Gopal, Jaydev Unadkat, Kartik Tyagi
Royal Challengers Bangalore: Aaron Finch, Devdutt Padikkal, Virat Kohli(c), AB de Villiers(w), Gurkeerat Singh Mann, Washington Sundar, Chris Morris, Shahbaz Ahmed, Isuru Udana, Navdeep Saini, Yuzvendra Chahal
Captains at the toss!
Virat Kohli – This pitch looks a lot better, the surface looks a lot better than what we had in Sharjah. We would have batted first as well. Couple of changes for us – Mann is back for us, he replaces Siraj. Dube misses out, Shahbaz Ahmed gets his first game today. That helps us get the balance back. We have learnt from our losses, that shows the character in the team. It's been a hectic schedule this week, it's all about executing our plans.
Steve Smith – We are batting. Day game, better to bat first. Same team for us. We have got a good mix with Stokes back, we did a lot of things right in the last game. The wickets are slowing up, one reason for batting first.
Steve Smith wins the toss and @rajasthanroyals will bat first against #RCB in Match 33 of #Dream11IPL.#RRvRCB https://t.co/f7nFmHeiFn

— IndianPremierLeague (@IPL) 1602927593000
Team news: The Royals go in unchanged. RCB have made a couple of changes. Gurkeerat Mann and Shahbaz Ahmed come in for Mohammad Siraj and Shivam Dube.
Toss news: Rajasthan Royals skipper Steve Smith calls it right, wins the toss and opts to bat first against Royal Challengers Bangalore in Dubai.
Pitch report: "We aren't playing on the centre pitch today and that means one side will be relatively short (at 66m). The other side though will have huge boundaries (at 85m). The dimensions are very deceptive with the straight boundaries as well There is a stiff breeze blowing across, the pitch looks really good, this is only the second day game in Dubai, nothing much for the seamers, but with the ground dimensions, the spinners are going to be the key, reckon Danny Morrison and JP Duminy.
Bangalore camp is all set!
Huddle talk ☑️#Dream11IPL | @RCBTweets https://t.co/HBtjI4FFDw

— IndianPremierLeague (@IPL) 1602926017000
Players form both the teams are out in the middle, warming up ahead of the crucial encounter. Just under 30 minutes to go for the toss.
Coming in for #RRvRCB! 💪#HallaBol | #RoyalsFamily | #IPL2020 | @IamSanjuSamson | @josbuttler https://t.co/f2l6cBoINc

— Rajasthan Royals (@rajasthanroyals) 1602924945000
The last time we played today's opponents…. 🔥🔥🔥@devdpd07 @imVkohli#PlayBold #IPL2020 #WeAreChallengers… https://t.co/peucWFJlpx

— Royal Challengers Bangalore (@RCBTweets) 1602925001000
After suffering an 8-wicket defeat against RCB in their previous encounter, its now time for the Royals to settle the score and move up on the points table.
Hello and welcome to Match 33 of #Dream11IPL where Steve Smith led #RR will take on Virat Kohli led #RCB.Who are… https://t.co/VITuSBzBfN

— IndianPremierLeague (@IPL) 1602923230000
Hello and welcome to TimesofIndia.com's live coverage of Match 33 of IPL 2020 between Rajasthan Royals and Royal Challengers Bangalore in Dubai.