Saina Nehwal, HS Prannoy cleared to play Thailand Open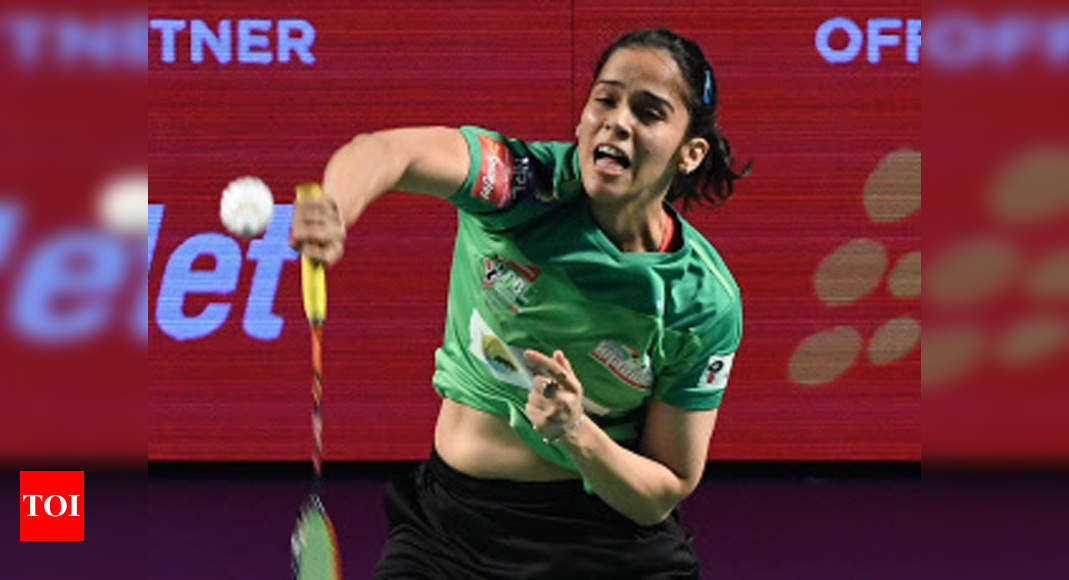 HYDERABAD: In an interesting twist, Saina Nehwal and HS Prannoy will play their first round matches in the Thailand Open on Wednesday. The organisers informed the Indian management that Saina and Prannoy have tested negative for Covid-19 and their matches will be held on Wednesday.
However, Kashyap's participation will depend on the result of his test conducted in the afternoon.
🙏👍 https://t.co/agay7cWWOK

— Saina Nehwal (@NSaina) 1610459219000
Confirming this development, Badminton World Federation (BWF) said, "BWF can confirm three of the four players who tested positive for COVID-19 earlier today at the Asian Leg of the HSBC BWF World Tour have been cleared to take their place in the draw. They are confirmed as Saina Nehwal (India), HS Prannoy (India), and Jones Ralfy Jansen (Germany). Upon retesting, Prannoy, Jansen and Elgamal returned negative, while Nehwal was found to be positive again.The four players then underwent a second PCR test and an antibody blood test for further confirmation".
Looking forward 👍 https://t.co/LflkWYTY2N

— Saina Nehwal (@NSaina) 1610459389000
However, a high-level committee of the Thai government concluded that these players tested positive on the PCR test but their antibody IgG was positive. It means that a person has been infected with the Covid-19 virus in the past. It does not mean they are currently infected. The committee was satisfied that they are not infected and do not pose a danger to the tournament.
Badminton Association of India (BAI) said that its timely intervention helped the players to get justice. "A timely intervention by BAI, taking up the matter with topmost BWF officials to ensure if tests were negative, matches for respective players should be rescheduled and no walkover is given.
After continuous efforts from BAI including doctors being sent immediately when Kidambi Srikanth started bleeding were taken up. BWF and Badminton Thailand were cooperative and BAI thanked all the stakeholders for their support including the tournament organisers," BAI said in a statement.
Earlier, on Tuesday these three players were withdrawn from the tournament after Saina and Prannoy tested positive and Kashyap being the first contact of Saina.
These three players contracted the virus last month during their friend and international shuttler RMV Gurusaidutt's wedding. They served the quarantine period and on arrival in Bangkok they tested negative in two tests. But in the third round of testing, the result of which was announced on Tuesday, Saina and Prannoy tested positive while Kashyap was negative. All three were barred from competing in the tournament.
"When you contract the virus and later test negative, the dead protein of the virus will remain in the body and that's why you may test positive though the virus is dead. The same happened in Saina and Prannoy case," said a source in the Indian team.
Srikanth slams organisers
Former world No.1 Kidambi Srikanth slammed the organisers for the manner the tests are being conducted. Srikanth tweeted a picture of his blood-stained nose. "We take care of ourselves for the match not to come and shed blood for THIS. However, I gave 4 tests after I have arrived and I can't say any of them have been pleasant. Unacceptable," tweeted Srikanth.
We take care of ourselves for the match not to come and shed blood for THIS . However , I gave 4 tests after I have… https://t.co/aVeFkL6dIZ

— Kidambi Srikanth (@srikidambi) 1610442640000