Shinde, Maha may be staring at long-drawn legal battle
MUMBAI: Nearly a week after he raised the banner of revolt, Eknath Shinde appears to be indecisive about his political plans in view of the unprecedented legal complications and confusion in his camp, reports Prafulla Marpakwar.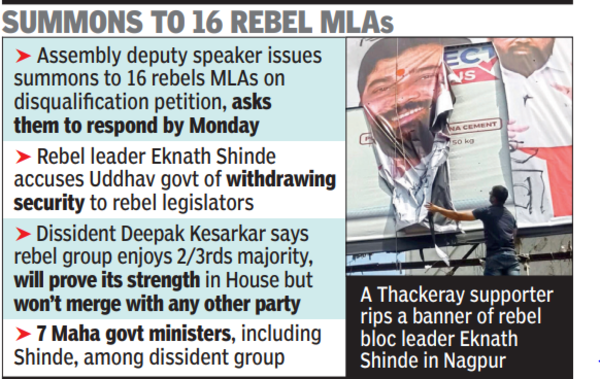 Former principal secretary (legislature secretariat) Anant Kalse felt that the Shinde camp's homework on the anti-defection law was grossly inadequate, while retired Justice B G Kolse Patil said the Sena leader has been trapped and it may not be possible for him to come out of it. Former speaker Arun Gujarathi and former minister Eknath Khadse said Maharashtra will witness a long-drawn legal battle between the deputy speaker, governor and the election commission.
Kalse said since Shinde has claimed that he has support of more than 2/3rd of Shiv Sena legislators, he has no option but to merge the group with any other recognised political party, otherwise, all the legislators with him will stand disqualified.
A senior NCP leader said since merger is the only option before Shinde, it will not be a smooth affair. Former speaker Arun Gujrathi said in the entire process, there will be unprecedented delay in the formation of the government. "It appears that any decision taken by any authority will be challenged in HC and later in Supreme Court," Gujarathi said.