South Africa to Host BRICS Virtual Summit on Israel-Hamas War; Jaishankar to Represent India
Last Updated: November 21, 2023, 06:59 IST
Johannesburg, South Africa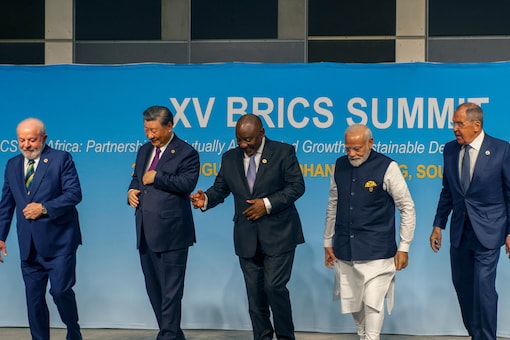 Leaders of BRICS counrties pose for a group photo during the 2023 BRICS Summit in Johannesburg, South Africa, Aug. 23, 2023. PM Modi says his country is becoming the voice of the Global South. (AP File Photo)
South Africa has long been a vocal supporter of the Palestinian cause, with the ruling ANC party often linking it to its own struggle against apartheid
External Affairs Minister S Jaishankar will represent India at the BRICS virtual summit hosted by South Africa on Tuesday, where the leaders of Brazil, Russia, India, China and South Africa, will discuss the ongoing war between Israel and Hamas.
The "Extraordinary Joint Meeting on the Middle East Situation in Gaza" will be hosted by South African President Cyril Ramaphosa in the hope of drawing up a common response to the more than six-week conflict. "JUST IN: BRICS leaders schedule emergency meeting to discuss Israel & Gaza conflict," the official X handle of the bloc wrote on Monday.
JUST IN: BRICS leaders schedule emergency meeting to discuss Israel & Gaza conflict.— BRICS (@BRICSinfo) November 20, 2023
New Members and UN Chief, Putin Will Participate
Leaders from Saudi Arabia, Argentina, Egypt, Ethiopia, Iran, and the United Arab Emirates — who are all due to join the BRICS group in January 2024 — will attend the meeting. UN Secretary-General Antonio Guterres will also participate, the South African presidency said in a statement. It added that all five BRICS heads of state will join the virtual summit, after which a joint statement with particular reference to Gaza is expected. Russian President Vladimir Putin, who has called for restraint amid the conflict, is also slated to join the BRICS meeting.
Fighting is raging in Gaza after a shock Hamas attack on Israel on October 7 killed about 1,200 people with around 240 people taken hostage. In Gaza, around 13,300 people have been killed in the retaliatory air and ground offensive, officials in the Hamas-run territory have said. South Africa has long been a vocal supporter of the Palestinian cause, with the ruling African National Congress (ANC) party often linking it to its own struggle against apartheid. The ANC said last Thursday that it would support a parliamentary motion to suspend diplomatic relations with Israel until it agrees to a ceasefire in Gaza, decrying the "genocidal actions of the Israeli regime".
Israel Recalls South Africa Envoy
On Friday, South Africa joined four other nations in calling for an International Criminal Court investigation into the Israel-Hamas war. China has historically been sympathetic to the Palestinians and supportive of a two-state solution to the Israeli-Palestinian conflict. Beijing has been calling for an immediate ceasefire since the start of the war last month.
One day before South Africa is due to host a virtual BRICS summit on the war in Gaza, Israel's foreign ministry said Monday it had recalled its ambassador from Pretoria. "Following the latest South African statements, the Ambassador of Israel to Pretoria has been recalled to Jerusalem for consultations," said ministry spokesman Lior Haiat on social media site X.
(With agency inputs)