Swapna Barman apologises after alleging medal loss to 'transgender' athlete
NEW DELHI: India's heptathlon athlete Swapna Barman on Thursday tendered an 'unconditional apology' after earlier alleging that she had lost the Asian Games bronze medal in her event to a "transgender" athlete.
Swapna on Monday had sparked a huge controversy with the sensational allegations on platform X but hours later deleted the post from social media.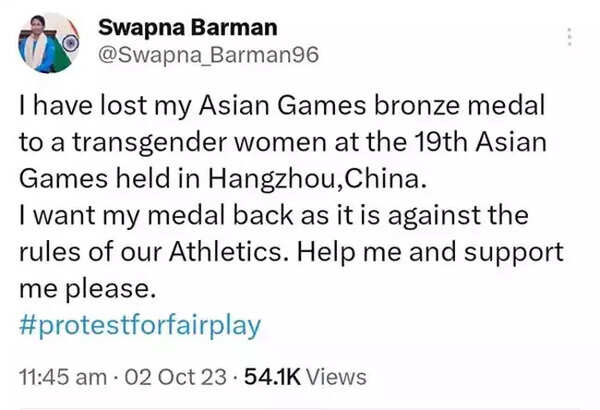 Nandini Agasara had grabbed the bronze medal in women's heptathlon in Hangzhou, while Swapna — the 2018 gold medallist — failed to defend her crown, finishing fourth in Sunday's race.
On Thursday Swapna apologized to her fellow athlete, saying that her allegation was an emotional reaction after her loss.
"I wish to tender my unconditional apology for my tweet the other day specially to my co-athlete was the sheer disappointment and momentous emotional outburst which made me react in this manner against the ethos of sports and deeply feels sorry everyone for my emotional reaction," said Swapna in a social media post.
"I have lost my Asian Games bronze medal to a transgender woman at the 19th Asian Games held in Hangzhou, China. I want my medal back as it is against the rules of athletics. Help me and support me please," Swapna had earlier written on 'X', formerly twitter.
A few hours later, she deleted the tweet even as the Athletics Federation of India (AFI) chief Adille Sumariwalla refused to make an official comment.
It is expected that the AFI will resolve the issue once the Games are over.