Taiwan unveils 'sea monster' amid invasion fears; idiotic nonsense, says China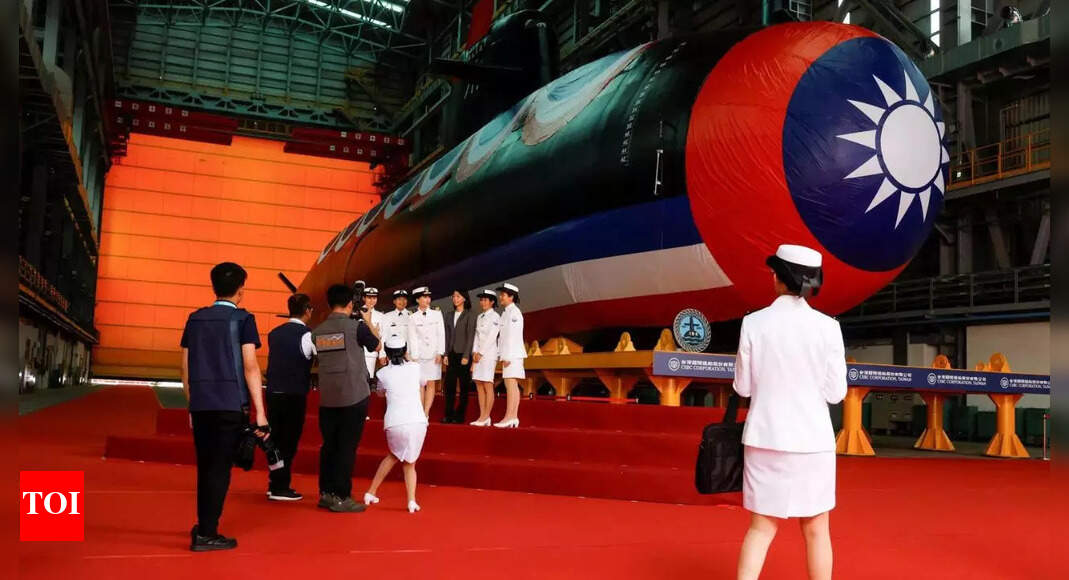 NEW DELHI: Taiwan on Thursday unveiled its first-ever domestically built submarine in what is being seen as a bid by the island nation to boost its military's naval defence capabilities in the face of a growing invasion threat from China.
The diesel-electric vessel has officially been named 'Narwhal' in English and 'Hai Kun' in Mandarin, which can be loosely translated as "sea monster".Very few details about the ship's size or capability have been disclosed due to security concerns.
The Narwhal, carrying a price tag of T$49.36 billion ($1.53 billion), will incorporate a combat system from Lockheed Martin Corp and will be armed with US-manufactured Mark 48 heavyweight torpedoes, which can be used to target surface ships.It is scheduled for sea trials in the upcoming months, with delivery to the navy anticipated by 2024-end.
The indigenous submarine program drew on expertise and technology from several countries – a breakthrough for diplomatically isolated Taiwan. According to a CNN report, Taiwanese authorities had reached out to senior military leaders in the US Pacific Fleet, Japan, South Korea and India, for materials and equipment.
'Idiotic nonsense'
China's defence ministry reacted sharply to the unveiling and referred to the domestically built submarine as "idiotic nonsense".
Asked about Taipei's plans to use the subs to prevent China's People's Liberation Army from entering the Pacific to surround the island, ministry spokesman Wu Qian said: "No matter how many weapons the Democratic Progressive Party authorities build or purchase, they cannot stop the general trend of national reunification."
Tsai touts self-reliant national defence
Taiwan, which China claims as its own territory, made the indigenous submarine as part of an ambitious project to modernise its armed forces as Beijing stages almost daily naval and air military exercises to assert its dominance over the democratic nation.
President Tsai Ing-wen, who initiated the plan when she took office in 2016, showed off the first of eight new submarines on Thursday in the southern city of Kaohsiung.
The ceremony was also attended by Sandra Oudkirk, Washington's de facto ambassador to Taiwan, as well as representatives from the Japanese and South Korean missions in Taipei.
"In the past, a domestically developed submarine was considered an impossible task. But, today, a submarine designed and manufactured by our country's people sits before our eyes," Tsai said, adding that it would play an important role in strengthening the navy's "asymmetric warfare" capabilities.
"No matter how many challenges there are, Taiwan must take this step and allow the self-reliant national defence policy to grow and flourish on our land," Tsai said, standing in front of the ship. Taiwan's red flag, featuring a white sun against a blue sky, was wrapped around the submarine's bow.
Tsai said the Narwhal will enter service by 2025, joining two existing submarines purchased from the Netherlands in the 1980s.
Two more subs by 2027
Taiwan's foreign minister Joseph Wu emphasised the need of fortifying the nation's defenses in response to the escalating threat posed by China's military's unconventional "grey zone" pressure tactics near the island, involving air and naval operations.
Wu underscored the significance of acquiring new submarines as a vital component of Taiwan's defense strategy. He staunchly advocated for Taiwan's pursuit of submarines, asserting their crucial role in deterring the outbreak of war in the region.
Taiwan is aiming to deploy a minimum of two domestically developed submarines by 2027, with potential plans to equip subsequent models with missile capabilities, as confirmed by the program's leader earlier this month.
'Strategic deterrent'
Admiral Huang Shu-kuang, Tsai's security adviser who is spearheading the submarine program, has characterised the subs as a "strategic deterrent" that will also play a pivotal role in safeguarding Taiwan's essential lifeline to the Pacific by ensuring the accessibility of ports along the island's eastern coastline.
While the Taiwan Strait might be too shallow for submarines to operate in, the vessels could be most useful when deployed to target Chinese warships in the Bashi channel – which separates Taiwan from the Philippines – and the waters between Taiwan and Japan's westernmost islands, said a report by CNN, citing Huang.
Because China's access to the Pacific Ocean is limited by the first island chain – which includes Japan, Taiwan and the Philippines – its naval forces would need to pass through these two strategic points to gain access to the wider ocean.
Therefore, Huang said, Taiwan can help limit China's projection of military power by deploying its submarines there.
In the event of a military conflict, the Chinese navy "will definitely want to enter the area to the east of Taiwan so as to surround us and limit the US' ability to intervene," Huang said, as per a report by the CNN. "Because submarines can operate deep under water and are hard to detect, they have a better chance of getting close to (Chinese) aircraft carriers and launching attacks," he added.
(With inputs from agencies)