Taliban, terror and China: How 'multiple chickens are coming home to roost' for Pakistan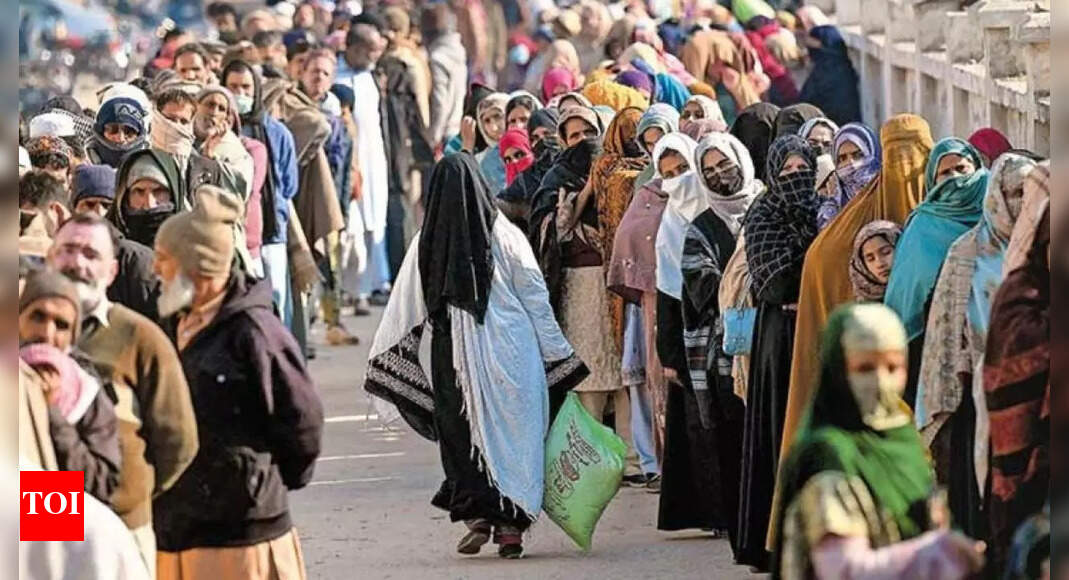 NEW DELHI: Taking a veiled dig at Pakistan, external affairs minister S Jaishankar said the economic problems in the cash-strapped "unnamed country to our west" are a result of multiple factors including excessive expenditure on military and imprudent borrowing.
Without explicitly naming Pakistan, Jaishankar said, "The unnamed country to our west which we are talking about, their problems are much more long-term, they are deeper historically in terms of what happens when distortions have been introduced into the natural progress of an economy."
Jaishankar was speaking at a discussion organised by US think tank Hudson Institute in Washington.
"If you have excessive expenditure on the military or if your borrowing has not been prudent or if you have infrastructure which doesn't pay its way. I think there are lot of factors there. Multiple chickens are coming home to roost," he said in response to a question during the discussion.
With terror attacks rising and the nation in the grips of a catastrophic economic crisis — all while its 'all-weather ally' China takes a wait-and-watch approach — here are some of the ways Pakistan is now suffering due to its own poor decisions and policies.
Terror attacks in Pakistan
Once Taliban's clandestine mentor, Pakistan is now growing increasingly incensed with its former ally for providing refuge to terrorists who are targeting its forces and civilians with a series of deadly attacks.
The Tehrik-i-Taliban Pakistan (TTP) has become emboldened ever since the Afghan Taliban seized power in Afghanistan in August 2021 after the pullout by US.
In January this year, the group killed at least 100 people in a suicide bombing in the northwestern city of Peshawar — one of the deadliest attacks in its history.
According to reports, some of the Taliban fighters helping the TTP have brought over weapons that the US left behind, including M-16s and sniper rifles with night-vision thermal goggles.
Hundreds of TTP fighters released from a Kabul prison by the Taliban after the group retook power also returned to fight in Pakistan.
BRI projects in limbo
China, meanwhile, seems to be slowly backing away from its multi-billion dollar Belt and Road Initiative (BRI) commitments in Pakistan amid concerns over Islamabad's spiraling economic crisis, series of corruption scandals and rising security costs.
With China drastically tightening its purse strings, several important CPEC projects are now either stalled or running way behind schedule.
Ironically, China's own projects are a big contributor to the debt mess Pakistan is currently facing. A report by the Center for Global Development has pointed out that the majority of Pakistan's external debt is owed to China due to BRI lending.
Pakistan's economic crisis
Pakistan's inflation rate has clocked in at 31.4% year-on-year in September, rising from 27.4% in August, statistics bureau data showed on Monday, as the nation reels from high fuel and energy prices. It is the highest inflation rate among South Asia countries.
On a month-on-month basis, inflation climbed 2% in September, compared to an increase of 1.7% in August.
Reforms required by the IMF bailout, including an easing of import restrictions and a demand that subsidies be removed, have already fuelled annual inflation, which rose to a record 38% in May.
Interest rates have also risen to their highest at 22%, and the rupee hit all-time lows in August before recovering in September to become the best performing currency following a clampdown by authorities on unregulated FX trade.
Burden on citizens
The cash-strapped government has been drilling massive holes in the pockets of its citizens by increasing the prices of petrol, diesel and LPG.
The price of liquefied petroleum gas (LPG) was increased by PKR 20.86 per kg after which the LGP price is fixed at PKR 260.98 per kg. Moreover, the domestic cylinder price was hiked by PKR 246.15 and setting its new rates to PKR 3,079.64.
The petrol and diesel prices in Pakistan have reached a record high. The interim government increased the prices by PKR 58.43 and PKR 55.83 per litre in less than a month. The rise in the rate has brought the price of petrol to PKR 331.38 per litre and the rate of high-speed diesel to PKR 329.18 per litre.
The inflation rate for food also remained high at 38.5% in August, according to figures from Pakistan's statistics department.
Shift in Pakistan's strategy
With China failing to step up and bail out its 'all weather' ally, Pakistan seems to be rethinking its alliances.
A US diplomat's recent visit to the Pakistani port of Gwadar, the heart of China's Belt and Road Initiative projects in the country, and a 'secret' arms deal with America to assist Ukraine, has highlighted Islamabad's delicate balancing of ties with rival superpowers in an effort to gain leverage for itself.
The high-profile tour for US Ambassador to Pakistan Donald Blome came at a time when Beijing is already frustrated with Islamabad over increasing threats against its interests and personnel in the country, as well as cash-strapped Pakistan's delayed payments for several major projects that come under the CPEC.
"The establishment in Pakistan appears to be trying to avoid putting all its eggs in the China basket, and to seek closer relations with Washington," said Michael Kugelman, director of the South Asia Institute at the Wilson Center.
Islamabad is also reportedly negotiating with Beijing to reduce the cost of a railway known as Main Line-1, the largest CPEC endeavor, to $6.6 billion from $9.9 billion.
Meanwhile, a report by the US-based non-profit organisation The Intercept claimed that Pakistan secretly supplied arms that were eventually used to aid Ukrainian forces amid its ongoing war with Russia.
According to documents leaked by a source within the Pakistani military to The Intercept, US and Pakistan agreed to the sale of munitions from the summer of 2022 to the spring of 2023. The Russian invasion took place in February 2022.
The report claimed that Pakistan earned political goodwill from the arms sale, which in turn played a key role in helping the cash-strapped country secure a bailout from the International Monetary Fund. It further said the US State Department took the IMF into confidence about the undisclosed weapons deal.
Watch S Jaishankar's veiled jibe at Pak: "Multiple chickens are coming home to roost…"