Tamil Nadu audio clip row: PTR loses finance, moved to IT
CHENNAI: Mannargudi MLA TRB Rajaa has become the new industries minister in Tamil Nadu, replacing Thangam Thennarasu, who will now helm finance and human resources management. Finance minister Palanivel Thiaga Rajan (PTR) is going to steer information technology and digital services hitherto helmed by T Mano Thangaraj.
Thangaraj has been moved to dairy development and animal husbandry, according to an official release from Raj Bhavan on Thursday.
"On the recommendations of the chief minister of Tamil Nadu, the governor has approved the change of portfolios and subject allocations," the release said.
READ ALSO: PTR thanks Stalin for giving him 'exciting new role' as IT minister, promises to 'accelerate job creation'
Thangam Thennarasu will also hold the portfolios of pensions and pensionary benefits, statistics and archaeology. Information minister M P Swaminathan will also hold the portfolio of Tamil official language, Tamil culture hitherto in the hands of Thangam Thennarasu.
Rajaa takes oath
Rajaa was sworn in as minister by governor R N Ravi in the morning. The governor administered the oath of office and secrecy to Rajaa in the Durbar Hall in Raj Bhavan.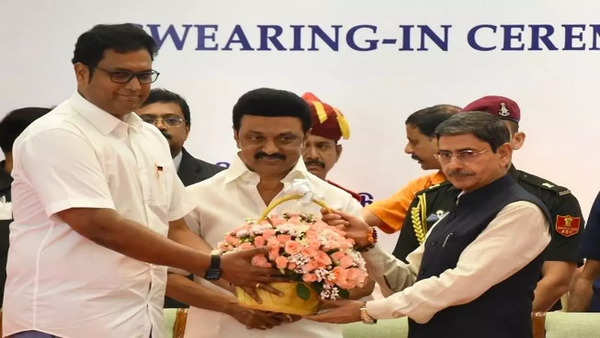 TRB Rajaa (left) with chief minister M K Stalin and governor R N Ravi. Photo by A Prathap
Chief minister M K Stalin and cabinet colleagues were present in the swearing in, along with members of Rajaa's family.
Rajaa is the son of former Union minister and DMK parliamentary party leader T R Baalu. Thanking the chief minister for including his son in the cabinet, Baalu said, "My request to Rajaa is to work efficiently on the advice of the chief minister and develop Tamil Nadu."