'Tendulkar is my hero, I will never be as good as him': Virat Kohli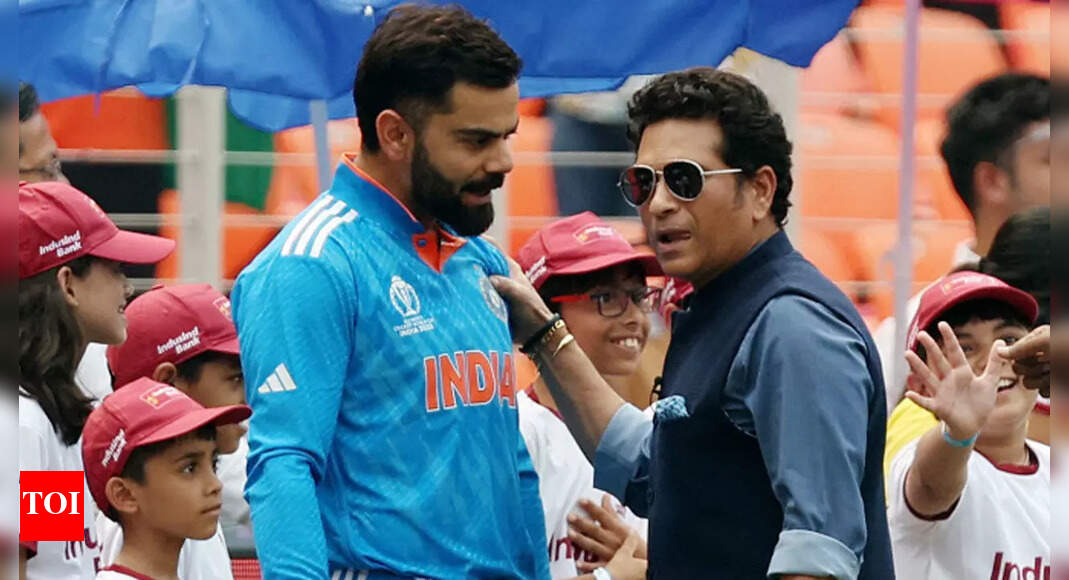 NEW DELHI: Batting maestro Virat Kohli on Sunday equalled Sachin Tendulkar's record of most ODI centuries with his 49th hundred and emoted his feelings post match saying that it's an huge honour and an emotional moment for him to match his idol's feat.On his 35th birthday, Kohli showcased his brilliance with an unbeaten innings of 101 runs off 121 balls, serving as the linchpin in India's commanding total of 326 for 5.This exceptional performance led to India's emphatic 243-run victory overSouth Africa in their World Cup match at the Eden Gardens in Kolkata.
"It is all too much for me to take in now, to equal my hero's record is something special for me. He is perfection when it comes to batting. But I am never going to be as good as him," Kohli said during the post-match presentation.
"It was a big game, probably playing the toughest team in the tournament. There was a motivation to do well. Because it happened on my birthday, it becomes special and the people made it more special for me," he added.
"I'm enjoying playing cricket, that is more important to me than phases. I'm just happy that God has blessed me with that enjoyment. I'm just happy that I'm able to do what I have done over the years," Kohli said.
Virat Kohli equals Sachin's ODI century record with 49th ton on birthday
"People from the outside look at the game in a bit of a different way. When the openers start well, you feel it is a belter but the conditions slowed down drastically. I was happy from that perspective. Once you got more than 315, we knew that we were above par," Kohli concluded.
Watch Virat Kohli equals Sachin's ODI century record with 49th ton on birthday