Two Male Cheetahs Shifted to Soft Release Enclosure in Kuno National Park
Last Updated: September 17, 2023, 23:44 IST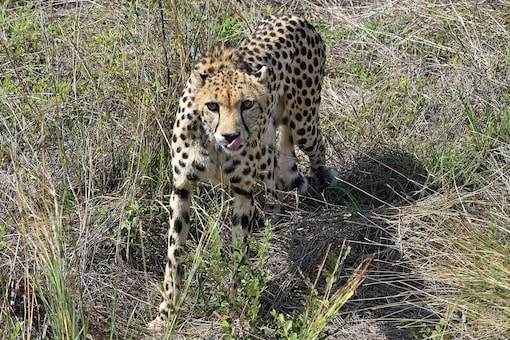 Notably, India's cheetah reintroduction project completed one year on Sunday. (File Image: PTI)
The two male cheetahs, namely Gaurav and Shourya, have been staying in the quarantine boma (enclosure) since July 19 this year
Two male cheetahs were on Sunday shifted to a soft release enclosure at Kuno National Park (KNP) in Madhya Pradesh's Sheopur district, officials said.
Notably, India's cheetah reintroduction project completed one year on Sunday.
The two male cheetahs, namely Gaurav and Shourya, have been staying in the quarantine boma (enclosure) since July 19 this year.
Both the cheetahs were shifted to a "soft release boma" after the completion of their health examination as per the protocol, officials said.
"Gaurav and Shourya were shifted to the soft-release enclosure under the guidance of the expert team," they said.
Under the Cheetah Reintroduction Project, eight Namibian cheetahs — five female and three male — were released into enclosures at KNP on September 17 last year by Prime Minister Narendra Modi. Later in February this year, 12 more cheetahs arrived at KNP from South Africa.
After the cheetahs were reintroduced to Indian soil, four cubs were born to the Namibian cheetah 'Jwala' in March, but three of them died in May.
A total of six adult cheetahs have died since March due to various reasons, taking the overall toll to nine, while 14 cheetahs and one cub are in healthy condition in their enclosures.
Cheetahs were reintroduced in India 70 years after the extinction of the species in the wild in the country.
(This story has not been edited by News18 staff and is published from a syndicated news agency feed – PTI)