'Umpire's call' creates lot of confusion: Virat Kohli
Taking a hard stand on the use of the 'umpire's call' and the 'soft signal' in the Decision Review System (DRS) while re-examining leg-before dismissals, India captain Virat Kohli expressed a clear view on Monday that changes should be made to these rules.
"According to me, the umpire's call right now is creating a lot of confusion. When you get bowled as a batsman, you don't expect the ball to hit more than 50% into the stumps to consider yourself bowled. So, from basic cricket common sense, I don't think that there should be any debate on that," Kohli said.
Drawing his experience from the amount of cricket he's played yet, he added "I played for a long time when there was no DRS. If the umpire made a decision, whether the batsman liked it or not, it stayed like that. Vice-versa, the umpire gave it not out and it was out, it stayed like that, whether it was marginal or not."
In the case of the use of 'soft signal' too, Kohli remains unconvinced. The dismissal of Suryakumar Yadav in the fourth T20I led to a controversy when the TV umpire ruled the batsman out even when replays apparently proved inconclusive, because of a soft-signal of 'out' given by the on-field umpire. It's a different matter that replays showed the ball touching the grass.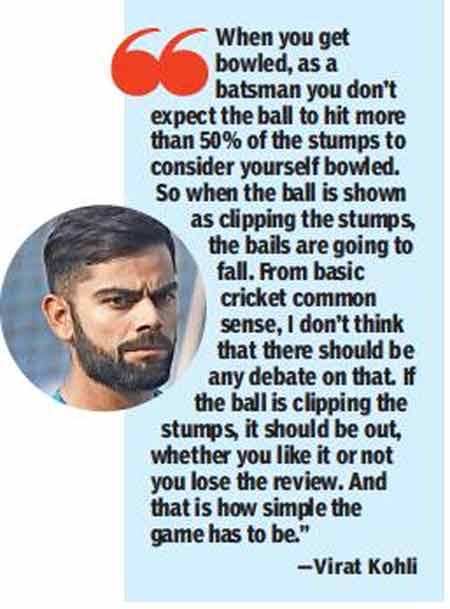 Kohli said, "You have to question what the spirit of the game is and what those guidelines are, because if things like that happened with the Indian team overseas, then you are talking about a totally different conversation of the spirit of the game." Kohli added that in big tournaments, such grey areas would add to the pressure and situation and leave fielding sides with no clarity whatsoever.
That the Indian captain chose to refer to the 'spirit of the game' was also a clear repudiation of sorts for the manner in which England claimed to have taken Yadav's catch. Kohli had expressed his displeasure over the manner in which Yadav was given out in the fourth T20I and called for rules to be made simpler, especially in big games.