Unlock 3.0: Weekend curfew lifted; shops to open till 9pm in Karnataka
BENGALURU: After nearly three months, the state government on Saturday announced the lifting of weekend curfew and allowed all commercial activities to resume across the state from July 5.
It also extended business hours of shops and establishments by four hours till 9pm and allowed the reopening of malls and bars and restaurants. "The night curfew will continue to be in place from 9pm to 5am across the state," chief minister BS Yediyurappa said after meeting the Group of Ministers on Covid-19. The new relaxations will not apply to Kodagu district as it has a positivity rate of over 5%,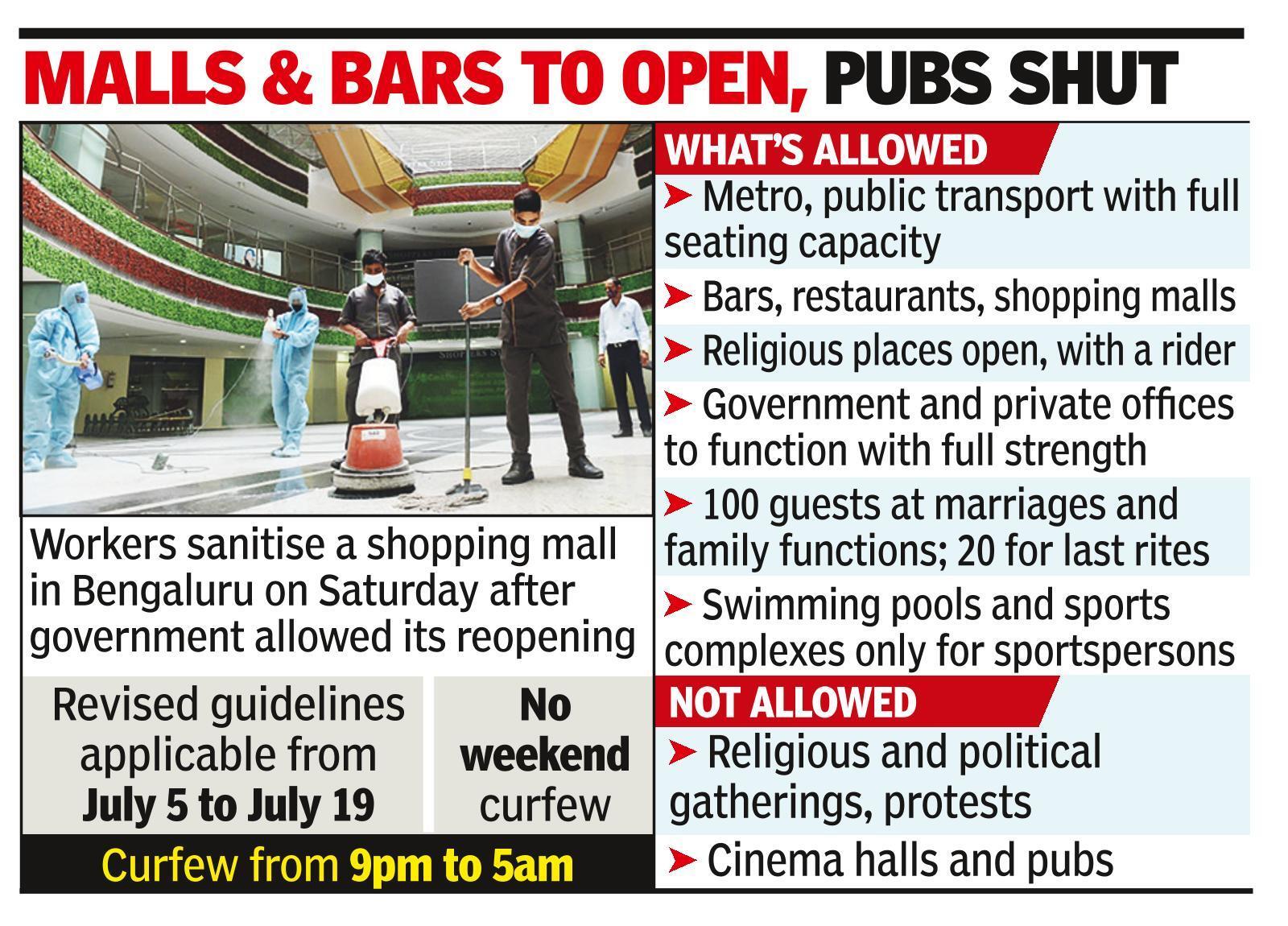 The Unlock 3.0 announcement came as daily Covid-19 cases consistently fell below the 3,000 mark over the past few days. These relaxations will be in force for a fortnight. "We will review the situation after July 19 and decide on further unlocking measures," Yediyurappa said.
Under the new guidelines, all shops, commercial establishments, industries, government, and private offices can be open till 9pm with 100% staff strength. Public transport, Namma Metro, autos and cabs can ply with 100% occupancy.
Temples and other religious centres can be open to the public but no offerings (or sevas) are allowed.
Bars and restaurants got the green signal to open till 9pm and serve liquor. Currently, bars are not allowed to serve liquor.
Now, 100 allowed at weddings
The new guidelines increased the number of people allowed at weddings and family functions from 50 to 100 and at funerals and last rites from 5 to 20.
Sports complexes and stadia can be opened only for practice whereas social, political, entertainment, academic, cultural, religious functions and other gatherings and large congregations are prohibited. Government offices are permitted to reopen at full working strength.
Educational institutions, cinema halls and pubs will remain shut. "Discussions are on about allowing schools and colleges to open. We'll issue a separate order," the CM said. The government has given a free hand to district administrations to impose more containment measures depending on the situation.
The restrictions were imposed from April 27 when daily infections breached the 50,000 mark. When cases did not come down, the government imposed a lockdown from May 10, allowing sale of essential goods from 6am to 10am. It started easing restrictions from June 11.