Why Amritpal, Asad Ahmad, Yasin Bhatkal Took Refuge in 'Safe' Nepal? Intel Sees Pakistan ISI's Hand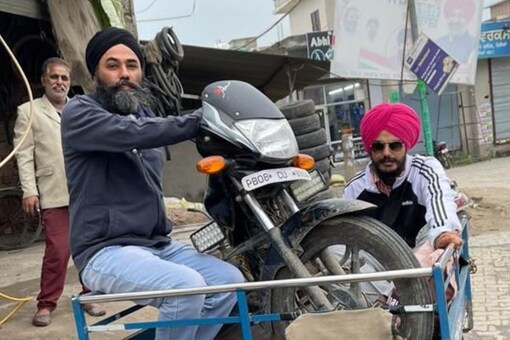 A picture of Amritpal Singh (right) and his associate Papalpreet Singh doing rounds on social media. Despite a high alert and vigil on the India-Nepal border, Singh managed to escape from the country and the agencies believe the ISI has orchestrated it. (Photo: News18)
Intelligence agencies suspect Pakistan's ISI behind India's 'most wanted' getting a safe sanctuary in Nepal. The Indian embassy in Kathmandu informed the Nepal government that Amritpal Singh was hiding in Nepal, eight days after he escaped from a police raid in Punjab and was last spotted in Haryana on March 20
It was Yasin Bhatkal almost 10 years ago — and now it is Amritpal Singh and Asad Ahmad. India's most wanted have managed to land up in Nepal, taking advantage of the porous and open India-Nepal border, even as the country's leading police forces were hot on their trial.
Intelligence agencies suspect a common hand behind these 'most wanted' getting a safe sanctuary in Nepal — Pakistan's ISI, which has a strong network in Nepal. The Indian embassy in Kathmandu informed the Nepal government last Saturday that Amritpal Singh was hiding in Nepal, eight days after he escaped from a police raid in Punjab on March 18 and was last spotted on March 20 in Haryana.
Despite a high alert and vigil on the India-Nepal border, Singh has managed to make his escape from the country and the agencies believe the ISI has orchestrated it, in an effort to give their 'asset' in Singh a safe haven.
The other most wanted man, Atiq Ahmad's son, Asad, has also escaped to Nepal despite a massive manhunt launched by the Uttar Pradesh Special Task Force (STF) after he carried out the shootout of Umesh Pal in Prayagraj over a month ago. Ten days ago, the Uttar Pradesh STF arrested a man named Qayyum Ansari from Nepal's Kapilavastu district for helping Asad escape to Nepal and providing him a car and shelter there. This escape was apparently through the Siddhartnagar district of UP. India has the Sashastra Seema Bal (SSB) posted on the 1,751-km long Indo-Nepal border but India's most wanted managed to still escape.
Rewind a Decade
In August 2013, an Indian team had tracked down India's most wanted terrorist of the Indian Mujahideen, Yasin Bhatkal, to Nepal's Pokhara and had brought him to India in a top-secret operation, along with his key associate and IM's child bomb maker, Asadullah Akhtar. Yasin was responsible along with Akhtar for most terror strikes in India between 2009 and 2013 and had escaped to Nepal after conducting bomb attacks in Hyderabad and six other cities. He was being sheltered by the ISI in Nepal and an IB and Bihar Police joint operation led to his arrest.
LeT bomb maker Abdul Karim Tunda was also caught from Nepal in 2013 and brought to India. "Both countries have a close security co-operation and Nepal does help in such operations if wanted criminals have taken shelter in their country. It is, however, a matter of concern that such wanted criminals escape our borders into Nepal despite heightened intelligence mechanisms now on the Indo-Nepal border," a senior government official told News18. India has asked Nepal to ensure Amritpal Singh does not leave Nepal using his Indian passport.
Read all the Latest India News here