Why Rohit Sharma is indispensable to Team India in home Tests
Opener's incredible home record in Tests and success on wicked turning tracks have made him indispensable to Team India
MUMBAI: It's easy to understand why Rohit Sharma felt that the treacherous wicket in the third Test at the Narendra Modi Stadium, which saw the match wind up inside 48 hours, was rather 'easy to bat on.'
On a pitch where batsmen were spooked by spinners every ball, and a wicket was falling every other minute, the star opener cracked 66 in the first innings, out of India's puny total of 145, and then finished off the match in style with his signature shot – dancing down the wicket and smashing the ball to deep mid-wicket – off England captain Joe Root, who had taken five for eight in the first innings with his rather dangerous looking off-spin for those conditions.
On a similarly challenging turner in the previous Test, Rohit cracked a masterly 161, out of an Indian total of 329. It was an innings which proved to be the sole difference between the two sides, and allowed India to come back into the series. Many felt that it was the classy Mumbaikar who deserved the man of the match award, even though the eventual winner, Ravichandran Ashwin took 10 wickets and scored a hundred in the game! Nevertheless, it was a masterclass on how to thwart spinners on a pitch which Jonathan Agnew of BBC termed as 'not good enough for Test cricket'.

What makes the classy Rohit such a dangerous batsman even on a dust bowl? His former teammate and close friend Abhishek Nayar offers an important insight.
"Any cricketer in Mumbai has to counter tough conditions while batting in local cricket. As a youngster, Rohit has played on wickets with red soil, on which the ball spins like a top, and in the Kanga league, where spinners become even more dangerous since both the wicket and the ball are wet, and the ball skids. Like it happened in Ahmedabad, you don't know if the ball would stop and come, come straight or turn. If you see his sweep shot, it's a very natural, 'Mumbaiya shot,' since the sweep comes handy while playing in turning conditions. This is why most Mumbai batsmen, for example Shreyas Iyer, are very good players of spin bowling. If you don't know how to play spin, you won't be able to survive in the local leagues," Nayar, now an assistant coach with KKR, tells TOI.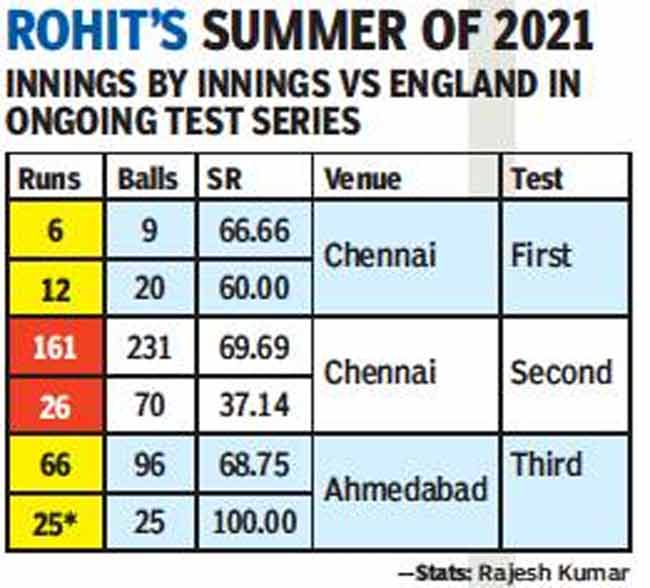 However, this factor alone isn't what makes Rohit a 'special' batsman, particularly in Test cricket in India. "His biggest strength is the amount of time he has to play the ball. He picks the length of the ball very early. He has now understood what his strengths are, and he can dominate a spinner," says Nayar. Having witnessed Rohit score a superb hundred for Mumbai on a similarly tough wicket at the Karnail Singh Stadium in New Delhi against Railways back in 2009, Nayar tells you what Rohit's approach is on such wickets. "On a turner, Rohit won't think about surviving. He thinks how can he dominate a bowler, so that the bowler is looking for survival instead," he reveals.
The former all-rounder feels that, at 33, Rohit is now also a matured individual who is in command both on and off the field. "He has a different mindset now. He knows how to tactically approach his innings, which bowler he has to target. If you see his interviews in his younger days, he would say something unwarranted, would get upset, but now he's so calm. He's a different guy in a different stage of life now," analyses Nayar.
"With age and time, he has matured as a cricketer. He's now a senior player in the Indian team. He's worked his game out. At Chennai, he played the sweep because he knew he could play the shot well. He has the ability to change gears. Once he gets going, he attacks the spinners brutally. Against South Africa in 2019, he was hitting spinners for sixes down the ground even when they had a long off and long on in place. At Chennai, he was dominating the spinners with either the sweep, as we saw in Chennai, or using his feet to hit them out of the park. However, he took his time in adjusting to the wicket. It was still risk-free cricket," says former India spinner Wasim Jaffer.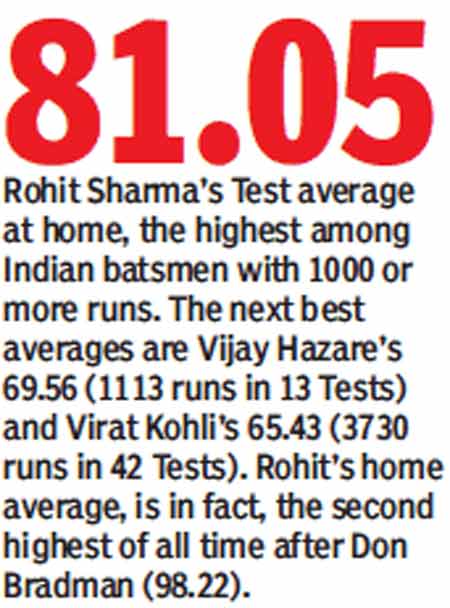 "Earlier, people used to blame him for throwing his wicket away, but he's become very focused now. He's in a 'comfort zone.' He wants for the loose ball and wants to score all the time. He has a compact defence. What makes him successful on a turning track is that he waits for the ball, rather than trying to play it too early. He doesn't allow the spinner to pitch the ball, using his feet to kill any turn. Most of the time, he steps out and smothers them out of the park," says Rohit's childhood coach Dinesh Lad. "That Chennai hundred was the best knock on a turner by an Indian batsman since Dilip Vengsarkar's 166 against Sri Lanka at Cuttack in 1986. It was a rare knock," he gushes.
Clearly, those 'mental demons' that perhaps afflicted Rohit in the early part of his career are a thing of the past. "He's in an excellent zone mentally, because of which taking a decision has become easier for him. That means shot selection, for which he used to receive criticism at one point, has become easy for him. He believes in his defence. He has made a few small adjustments. His long stride while playing spinners is perfect now, he plays the spinning ball right below his eye, and he is backing his instincts, rather than playing predetermined strokes, as was the case with a few other batsmen in the third Test. That Chennai hundred of his was an exhibition in the art of batting on turning tracks. He didn't go there with a defensive mindset, but was looking to dominate the English spinners. If you give him a loose ball, he is waiting for it, and will score runs off it. At Ahmedabad, realising that the pink ball was skidding faster after pitching, he cut out the sweep and the cut. He backs himself to do well in challenging conditions," explains former India batsman and ex-Mumbai coach Pravin Amre, who's now an assistant coach with Delhi Capitals.
"The beauty of Rohit, from what I have seen since when he was 16, is that he takes the team on his shoulders. When he fires, the team wins. He wants to win matches for the team off his bat. This is exactly why I kept backing him in his early days, despite there being times when he would get out after playing one stroke too many," compliments Amre. Defining his current form, Amre says: 'Right now, 'he's in the zone,' as we call it in cricket."

In this team, he's arguably the deadliest batsman India have at home, possessing a superb average of 81.05, with seven hundreds in 17 Tests. "He has got all the shots. Once he gets past the first hour, he can easily get 170 or 200 in a day," says Jaffer.
"He's looking organized on both the technical and mental aspects. He was looking really good in Australia too, even though he was only making 30s and 40s. What makes him special is that he has the ability to score big, match-winning hundreds. Unlike earlier, when was looking to attack a lot early on, nowadays he takes his time, and is willing to spend time on the wicket. He doesn't play too many loose shots now, and has a compact technique," concludes Jaffer.