WTC Final: Shot out for 217, India toil hard for late strikes against New Zealand
Kiwi batsmen consolidate after Jamieson five-for
India were left scratching their heads as New Zealand's openers hung around for 70 runs and 34.2 overs on Day 3. Kohli's fast bowlers did the best they could with the new ball in helpful conditions and yet found themselves chasing the game.
Was it the pace attack's inability to bowl a little fuller and generate lateral movement as efficiently as the Kiwis had? The margins of difference seemed razor thin. India's pace trio bowled impressive lines around the wicket to the two left-handed openers but perhaps lacked the degree of swing which could have made an early difference.
DAY 3 HIGHLIGHTS | SCORECARD
Would India have loved a fully fit Bhuvneshwar Kumar or even a Mohammed Siraj with the new ball to add variety to this predominantly seam bowling line-up?
It wasn't until moments before the close, with heavy cloud cover overhead and the idiosyncratic Dukes ball a bit older, a bit of its lacquer off, that a wicket fell to a pacer.
At close, New Zealand were 101/2 in 49 overs after India folded for a below-par 217. The impressive Devon Conway gave Ishant Sharma his first breakthrough just before bad light halted play, and Kane Williamson too was troubled by some deviously late outswingers during a beautiful spell from Jasprit Bumrah.
The first breakthrough, however, came not from the pacers as expected but off-spinner Ashwin, who found some dip and flight variation to snare Tom Latham for 30.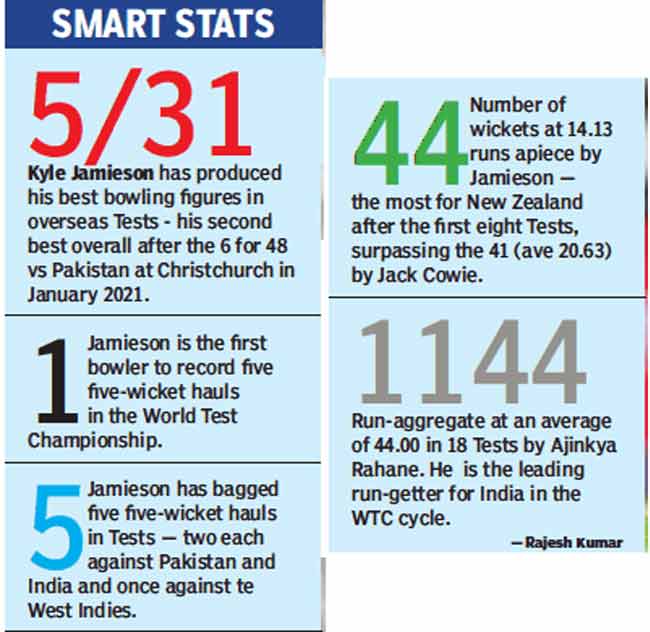 Ashwin will surely have more say in this game but the dismissal would have left the pacers in a quandary. At one point, Shami, bowling with an immaculate seam position, had induced 36% false shots, the most for any bowler in this game, yet still found himself without a wicket.
The Kiwi openers even sat deeper in the crease unlike the Indians, allowing the ball to do more, but India generated only 1.1 degree of swing in the first 10 overs, according to CricViz stats, compared to 2.4 from the Kiwis, while generating the same degree of seam movement (0.9). India also bowled only 27% fuller balls compared to 55% from the Kiwis in that period. The shorter length allowed the batsmen leeway to adjust their shots.
However, it's not easy for a pacer to adjust length, as Ian Bishop pointed out on air, though the indications were all there in the morning when New Zealand reshaped their own bowling plans for Day 3.
How India would love to clone Kyle Jamieson (5/31): a 2.23 metre release point, an ability to jag the ball both ways and generate disconcerting bounce from that 6'8″ frame.
Jamieson, who now has five five-wicket hauls in only eight Tests, and Trent Boult both began proceedings by bowling fuller, trying to make amends for not making the batsmen play enough on Day 2.
Only 15 deliveries into the day's play, Jamieson, finding more seam than swing, struck gold, getting Kohli LBW with his first delivery to the Indian captain that would have actually hit the stumps.
Rahane was intemperate while chasing his half-century, failing to see that Wagner and Williamson had changed the field and were egging him on to repeat his half-hearted swipe at a shorter one. Or was he too eager to break through the familiar trap? Pant had a momentary lapse of reason after having waited patiently for 21 balls for his first run, and India lost their last four wickets for 12 runs.
There was a lot less swing on offer but the Kiwi bowlers looked more threatening, bowling with control and discipline, committing to a line and completely drying up the runs.
As India's runs dried up, the momentum shifted.