Chhattisgarh: Bastar used to go to the polls. Now polls have come to Bastar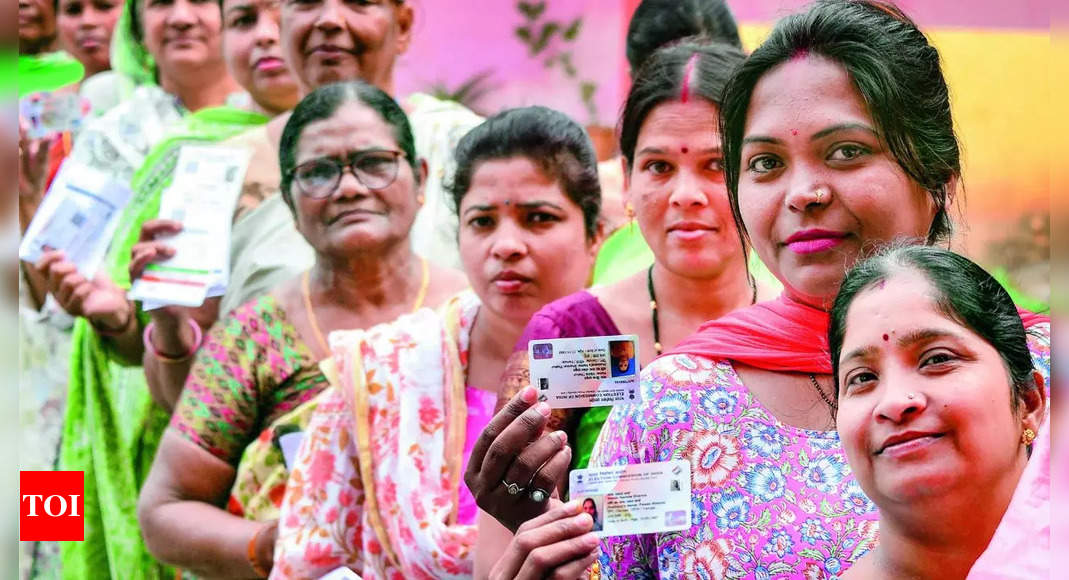 NEW DELHI: For the first time in independent India, residents of 126 villages in Chhattisgarh's left-wing extremism-affected Bastar division got to vote in polling stations in the vicinity of their homes. Until 2018, they had to endure an arduous trek through dense forests, hills and rivers to cast their franchise, while also fearing a backlash from Maoists who would invariably call for a poll boycott.
On Tuesday, 20 assembly constituencies in LWE-hit areas of Chhattisgarh and all 40 seats in Mizoram that went to polls recorded a turnout of 71.1% and 77.8% respectively.The figure is set to rise further, particularly in Chhattisgarh, when reports from all polling stations, including interior and inaccessible ones, come in.
Senior Election Commission officials described the high and largely peaceful polling as the "triumph of ballot over bullet" and attributed it to advance and meticulous planning as well as exhaustive reviews by the commission. A source told TOI that the polls were by and large uneventful in the Naxal violence-prone areas of Chhattisgarh, barring an encounter between the Maoists and security forces that led to elimination of four naxalites, with no casualties on the forces side, and the recovery of an AK-47 weapon. Bomb threats too were contained with the timely detection and defusing of IEDs in 2-3 instances.
Constituency-wise turnouts were high in the 20 seats of south Chhattisgarh where polling was held, though as of Tuesday evening, the polling percentage had surpassed the 2018 figures only in Dantewada and Bhanupratappur. In 2018, half of these 20 constituencies had witnessed poll turnout of over 80%.
A senior EC officer said that as promised by CEC Rajiv Kumar during a press conference in Chhattisgarh on August 26, the poll panel had ensured the participation of people from every region in the democratic process by deploying adequate security forces, bringing polling stations closer to voters and taking steps to make the polls more inclusive.
To facilitate inclusivity and accessibility, 320 all-women managed polling stations, 31 managed by PwDs and 140 model polling stations were set up in Mizoram and Chhattisgarh combined. In Kanker, Chhattisgarh, a 'rainbow' model polling station was set up in Pakhanjur area that is inhabited by the highest number of voters in the third gender category. The polling station had security personnel also belonging to the third gender.
Chhattisgarh assembly polls: Tight security arrangements made in Bastar ahead of first phase of elections
The EC also extended home voting facility to senior citizens above 80 years of age and PwDs. Encouragingly, many of them chose to show up at the polling station to cast their vote. For instance, a 96-year-old, visually impaired voter and two elderly voters aged 95 and 87 years cast their vote at polling stations in Mizoram.
The oldest voter was Biakleti (105), a resident of Ramhlun Vengthar, within Aizawl North-2 assembly constituency, who came to the polling station assisted by her relatives.
Ahead of polls, polling personnel leave for polling stations from Rajnandgaon: Chhattisgarh assembly polls
The 101-year-old Raulhnudawna and his wife, Thanghleithluaii (86), were identified as the oldest couple to vote, at Ruantlang polling station in Champhai South assembly constituency.
A total of 174 candidates are in the fray across Mizoram, while the corresponding figure is 223 in constituencies covered by Phase-I polling in Chhattisgarh.
Chhattisgarh assembly polls 2023: Voting commences in 20 constituencies in the first phase