Huge Number of Taxis Plying with Only One Passenger Onboard: SC on Delhi Pollution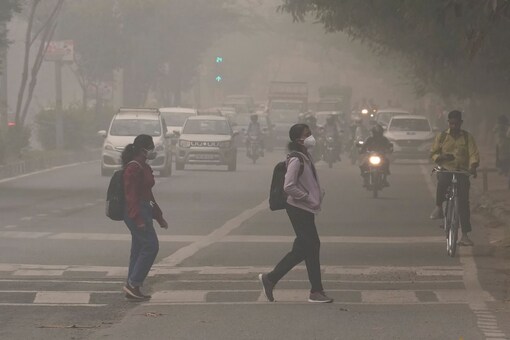 The Delhi government has been directed to make smog towers operational immediately. (File image: PTI)
The top court also flagged issues like crop residue burning, vehicular exhaust, and burning of waste in the open as major contributors to pollution at this time
In reference to the recent worsening of the air quality in Delhi-NCR, the Supreme Court has remarked that a huge number of taxis are found on Delhi roads, with only one passenger onboard. On many taxis being registered from different states, the Delhi government has been asked by the court to consider disallowing them.
"We would like to know whether there is any way of monitoring, especially during this time, if only taxis registered in Delhi are permitted to ply on roads, as an additional measure to control pollution," the court said.
Notably, the Delhi government has been directed to make smog towers operational immediately.
The top court on Tuesday also clarified that its earlier ban on barium-based firecrackers is binding on every state in the country.
An application was moved seeking appropriate direction to the state of Rajasthan and the district administration of Udaipur to immediately take steps to prevent air pollution in the city.
Recently, the Supreme Court had refused to interfere with the blanket ban imposed by it on production and sale of firecrackers including green ones in Delhi-NCR. The court had further told the Delhi Police that filing cases against people who burn firecrackers may not help in curbing their sale.
In a similar petition, the Supreme Court had also refused to interfere with the ban imposed by the Delhi government on the storage, sale, and use of all types of firecrackers. While doing so, the bench told petitioner BJP MP Manoj Tiwari to go to a state where it is allowed to burn firecrackers if he wished to do so.
On October 30, 2023, the National Green Tribunal (NGT) in Bhopal also emphasised strict compliance with the Supreme Court's directions and the principal bench of the tribunal regarding the regulation and restrictions on the use of firecrackers. The NGT underscored that celebrations should not infringe upon the fundamental right to health under Article 21 of the Indian Constitution.
The tribunal clarified that there is no "total ban" on the use of firecrackers. However, the bench comprising Justice Sheo Kumar Singh and expert member Dr Afroz Ahmad observed that only firecrackers found injurious to the health of citizens, particularly children and the elderly, have been banned.
The NGT warned authorities not to permit the use of any banned firecrackers under the guise of celebrations.